GIBBON — As autumn season arrives; a change descends upon fields and woods just outside of Gibbon. The location, KneeKnocker Woods, is celebrating a decade of serving up fright, delight and a peerless Halloween experience. The juxtaposition of the thrills, chills and frights offered by the attraction, stands in an ironic contrast when compared to the creative, passionate and service-minded Vohland family who put in countless hours to bring KneeKnocker Woods to life. Icon Poly The story of KneeKnocker Woods cannot be told without Icon Poly, a custom 3D fabricator that specializes in the use of high-quality rubbers and resins....
---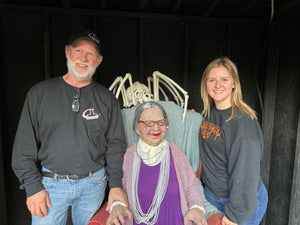 KneeKnocker Woods comes to life, beckoning more than 10,000 thrill-seekers to enter its maze of horrors annually. This spine-tingling destination is not just any haunted attraction – it's a labor of love, boundless creativity and customer-centric values by the Vohland Family. This year marks the haunt's 10-year anniversary.
---
• News
KEARNEY, Neb. (NTV) —  University of Nebraska at Kearney fraternity Phi Delta Theta is hosting a haunted woods to raise funds for Nebraska's chapter of the ALS Association. Grandpa Grimm's Kneeknocker Woods is open from 7 p.m. to midnight on Friday and Saturday nights from Sept. 29 to Oct. 29. The outdoor Halloween experience also is open on two Sundays, from 7 to 11 p.m. Oct. 22 and Oct. 29. KneeKnocker Woods is set along an old wooded river that snakes through corn-planted agricultural land and features an abandoned zombie-infested community. Complete with graveyard, the attraction uses state-of-the-art outdoor animatronics...